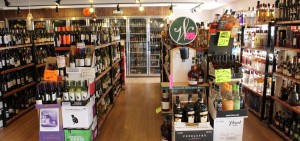 Drink better for less at W.J. Doyle Wine and Spirits.  A family owned business, we pride ourselves on our customer's satisfaction. We carry the products you already enjoy and take pride in introducing you to better quality, for  less money.  Our ultimate goal is for every customer to walk out with the best bottle for them at the best price.  When we help our customers we start with questions.  What are you looking for?  What do you like?  How can we best serve you?  Whether you are looking for a high end Napa Cabernet, an Oregon Pinot Noir, or the best vodka under $10.00 we have tasted some alternatives and will send you to the best bottle we have found for the money.  We love interacting with our customers,  talking about what makes a wine or spirit unique, and finding great deals.  What separates us from our competition:
Educated Staff – A  label may tell you the grape, the area from which the wine hales, and provide a list of flavors that may or may not actually be in the wine.  A beer label may indicate a basic style and a brewer, but seldom tells you more.  Our staff has the opportunity to taste a lot of wine, beers, and spirits.  We keep an extensive file of notes about every wine we taste, an allow customers access. Curious about a bottle?  Ask us.  Wines can change drastically from year to year.  Just because it was good last year, does not mean it will be good this year.  We eat, sleep, and breathe wine as it is our passion as well.  We are always trying new products with you in mind.  We want to find the best product we can but also help you find a wine or spirit that is perfect for your mood, your food, and your  palate.   Trying a new wine or buying a trusted name we want you to be happy, if you are not happy return the wine (not empty)  and we will get you a credtit into something else.
Selection – We stock hundreds of types of wine and spirits.  Are you looking for a small batch Irish Whiskey – we have it.  A pot distilled small batch bourbon?  We have it as well.  We have over 50 types of single malt scotch, over 140 types of beer sold as singles and hundreds of wines from all over the world.   If we don't have it, we can probably get it, and are very willing to try.
Closeout Wines –  Distributors in Colorado frequently decide to reduce their inventory of a vintage for a number of sometimes foolish reasons.  For instance, one company marks down any wine that has been in the warehouse for over six months, regardless of the reason.   This company has thousands of brands that they sell, and good wines sometimes just get missed by the reps. While there are many other liquor stores that have access to this list, most leave the wine on the shelf at suggested retail price.  Here, we enjoy giving our customers the opportunity to try something out of the ordinary at a discounted price.  We have seen bottles on this list that retail for $30 and up on the shelf for under $10.  This section changes weekly and the deals often never return at that price so check back regularly.
Mix your own 6 pack, or more – Looking for 2 micro brews, a hard cider, and a few Rolling Rock's? Mix your own allows you to be flexible with what you want as all of your beer is priced as singles.  You don't have to buy six.  You can buy what you want, whether it is one beer or 8 beers.  Rather than charge more for selling exactly what you want, we then charge less.
We also offer Kegs – We often have kegs in stock but with limited selection, if you have something particular in mind, give us a call and place an order.
We deliver!  We take customer service to the next level. We deliver within the Durango city limits for a nominal delivery charge and no minimum.
Cost Plus ordering for weddings and other special events.  Let us help you with your special day.  We work closely with you to choose the perfect selection of wine, beer or spirits for your palate and those of your guests.   No need for full cases, once you get over two cases of wine, everything is cost +15% – single bottles included.